Cheshire, Derbyshire & Staffordshire Webcams
This started with the collation a few local webcams that show weather conditions among the hills that are found to the east of Macclesfield and it was a period of wintry weather that put the idea into my head. Interest in travel conditions around hill country are not limited to outdoors enthusiasts either as I discovered when a work colleague was planning a weekend spent in a cottage near Miller's Dale in Derbyshire with dumps of snow in the forecast. Falls of snow can close roads as well as draw lovers of winter walking and reductions in visibility because of low cloud affects motorists as much as anyone. It is good to be aware of all this.
This webcam collection is a living one that may change over time. For now, I am planning to keep things close to where I live though there are tempting additions that include the following: Derrynane and the Skelligs in Ireland's County Kerry, Scarlet Point on the Isle of Man, Plockton in Scotland, Esja near Reykjavik in Iceland or Innsbruck in Austria. For others again, Visit Cumbria has collated a selection of their own as has Winterhighland in Scotland (availability of snow at Scottish ski resorts can be variable at best…). Looking further afield, more can be found via Webcams.travel or SkylineWebCams and there also are dedicated repositories of Bavarian and Norwegian ones for anyone with greater ambitions.
Cat and Fiddle Inn
This pub, the second highest in England has been a starting or ending point for a few of my walks among the hills that lie between Macclesfield and Buxton. Since the A537 that passes its doors is susceptible to frost, snow and poor visibility, the webcam is invaluable for checking conditions before travelling around that way. There's even a gallery that shows how tricky things can get up there should you need any convincing. If you need to know where it is pointing, just go to the website.
Flash Bar Stores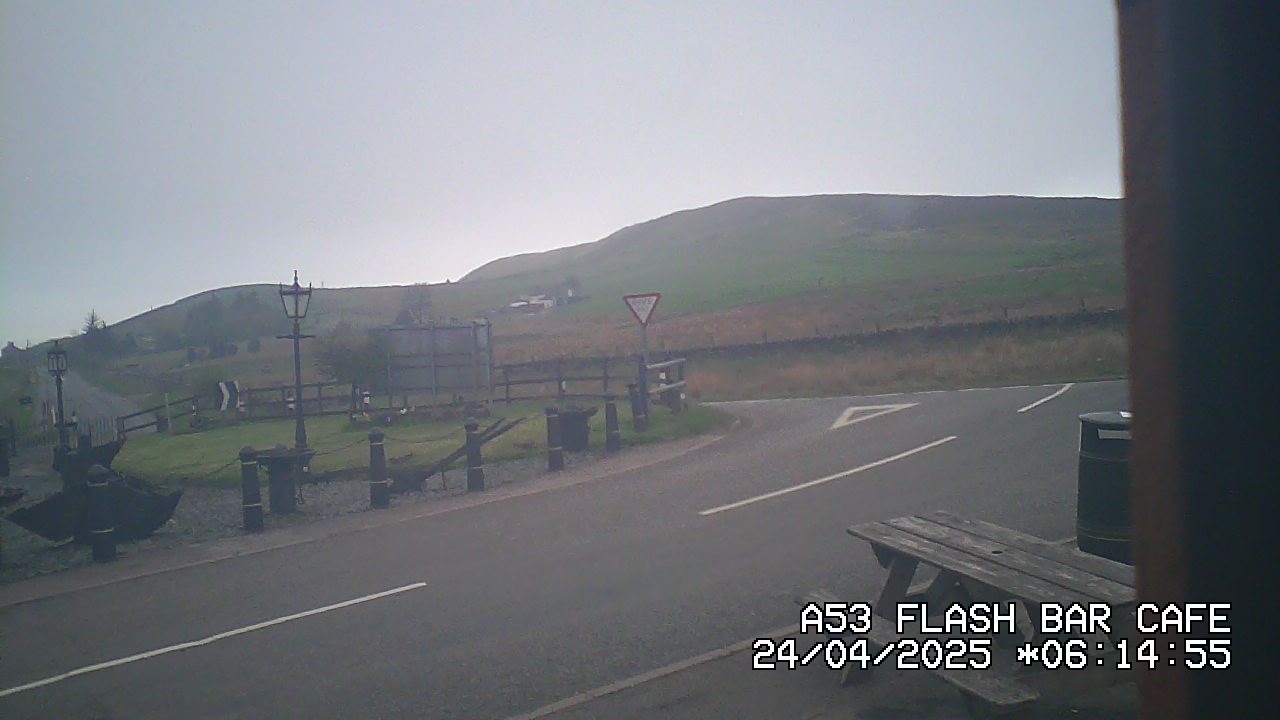 Like it's counterpart between between Macclesfield and Buxton, the A53 between Buxton and Leek is not immune to visits of winter weather. Flash is a village located between the pair that I have yet to frequent; it claims to be the highest in England too so that places things in perspective. The webcam is maintained by Flash Bar Stores and there's a spot of history between the name of Flash Bar described on their website. Also on there are the details of where the webcam is pointing as well. Unfortunately, the internet connection to the camera is not as good as it could be so there may be times when there is not image available.
Buxton Weather
Though it can be overlooked with the hills surrounding the place, Buxton lies much higher than Macclesfield and this often affects the temperatures that are observed there. That also can make for different weather too so this local weather website is both invaluable and worth visiting. Details of the webcam location are on there as well.